A Gentleman's Guide to the Spa: The modern man's manual to understanding spas, spa days, treatments & etiquette
SEP 1, 2018
Category : GUIDES
WRITTEN BY:

Gemma Bates
Hello, and welcome to Experience Days' ultimate guide to spa-ing for men.
Today, more and more guys are coming around to the idea of pampering oneself, and spas increasingly cater to this trend with dedicated masculine spaces and specialised treatments.
For those who've never visited one before, however, a trip to the spa – even one with a classic barbershop onsite and a 'manly-cure' on the treatment menu – can be fraught with uncertainty.
How are you expected to act?
What do you tip?
When do you get undressed?
Fear of the unknown puts some guys off altogether. Others may still think of spas as effeminate, pretentious, or overly self-indulgent.
Well, never mind. We're here to quell those doubts and put your mind at ease. We believe spa days are for everyone, and – in today's non-stop, stressful world – you simply can't ignore the countless benefits to health and wellbeing.
Whether you've already dipped your toe in the (essential oil-infused) water, or you're still a total spa virgin – we've all the advice you need to make the most of your visit. In this article, we'll discuss some of the most common treatments available, as well as basic spa etiquette and tips for blending in like a pro. Hopefully, we'll even persuade a few doubters that – not only are regular 'man-pering' sessions a real treat – they're also damn near essential to a long and happy life!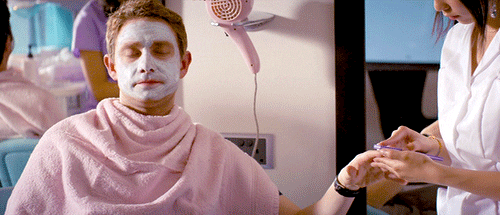 If we're preaching to the choir already, you can browse our great range of spa experience, here.
Otherwise, let's begin by asking…
What can a spa possibly offer me, a Man?
We get it – traditionally, men are supposed to be rugged, unkempt and pheromone-y, right? Aren't spas exclusively the preserve of the fairer, more fragrant sex?
C'mon people!
It's 2018, after all – and, surely, we can do away with lazy assumptions and outdated stereotypes!
Sure, it's true that, for decades, spas focused their attention on a predominantly female clientele. In the UK at least, men have always been more reluctant to pamper themselves – and the spa industry shaped itself accordingly.
Times have changed, however.
These days, more and more blokes (yep, proper bloke-y blokes) are shaking off the yoke of centuries-old, restrictive masculinity and embracing the full spectrum of life's pleasures. In turn, spas have adapted to meet the growing demand for authentic men's experiences.
Whether that means creating more macho environments (for guys who still require a little reassurance), designating male-only spaces, or offering bespoke treatments that're designed specifically for men's needs – the modern spa is just as much a haven for guys as it is their wives, girlfriends, mums and sisters.
Not convinced? Then check out our five reasons why men should book a spa day below.
Yep, life's stressful, and we're all guilty of working a little too hard sometimes. Today's man carries the weight of the world on his shoulders – but a trip to the spa is a chance to shake it off! Regular timeouts are vital to maintaining your performance and hitting those targets you set yourself. So don't wait – book a stress-relieving treatment, switch off your phone, and relax.
It's good for your health
We've all heard about the catastrophic effects excessive stress can have on our health. From headaches to an increased risk of heart disease – it's seriously bad news for our physical wellbeing. Spa days relieve stress and are, therefore, good for your health. It doesn't end there though – consult the treatment menu, and you'll find beneficial therapies to target every part of the body.
Take pride in your appearance
Not only will you leave the spa feeling great inside – you'll look pretty fine on the outside too! There's a whole variety of masculine treatments available that're designed to keep you looking your absolute best – from hand-softening 'manly-cures' and invigorating facials, to tanning and hair removal. First impressions count, so make yours a good one. Trust us, your other half will love it too.
While we're on the subject of other halves – spa days also make wonderfully romantic experiences for two. I mean, what could be better than a day's pampering with your one and only? Forgetting the stresses of your demanding routines, leaving the kids at Mum and Dad's, and devoting some time to you… Gift vouchers are available, here, and they're bound to win you brownie points.
Life's all about new experiences – and, if you don't try something, you'll never know what you're missing! Millions of guys have already discovered the benefits of regular spa visits – can they all be wrong? Surely, it's worth giving it a go? Do your research, find a place that seems right for you, and – who knows – you might stumble on another small way of changing your life for the better.
Phew! For an even more comprehensive list of reasons to book a spa break, head here.
Hopefully, however, you're now fully on board. In which case, let's move on to...
Spa Treatments for Men
So, you've decided to take our advice and book a spa day – awesome!
But what treatments are right for you?
For first-timers, the choice can be overwhelming – but fear not! Next, we'll outline some of the most common spa treatments for men, so you can take your pick with confidence.
Here goes…
Always a reliable option; a good massage can reduce stress, relieve muscle tension, improve circulation, and even strengthen the body's immune system. There are loads of different types and techniques, but a classic Swedish massage is a great place to start. The therapist will use a combination of basic movements, applying pressure to release knots and leave you feeling deeply relaxed. Once you've a taste for it, there's hot stone, shiatsu and Thai massages to try, or deep tissue massage for persistent trouble spots.
Regular facials are one of the best ways to take care of your… well, face. Obviously. Essentially, it's a multi-step treatment that's designed to cleanse, exfoliate and nourish the skin, giving you a clear, well-hydrated complexion and a youthful glow. For guys, it's also the perfect remedy against common skincare woes, like ingrown hairs and razor burn. Most spas now offer facials specifically for men's faces, typically using more masculine-scented products. Soothing and effective – the results may surprise you!
If your hands and feet are long overdue some TLC, head to the spa and book yourself a manicure or pedicure. The former is a moisturising treatment for your hands, during which your fingernails are trimmed and shaped. The latter tackles your feet, removing dead skin and restoring those unsightly toenails. Men's hands and feet take a battering, so it makes sense to look after them. Whether shaking hands or brushing your partner's feet under the covers – it's a small detail that makes all the difference!
Many of the country's top spas now offer traditional wet shaves and barbering services. If you've never had one before, a classic cutthroat shave is a revelatory experience! It begins with the application of hot towels, plus various pre-shave lotions and exfoliators. Your barber then works up the perfect lather before carefully removing your stubble with a fresh, Sweeney Todd-style razor. Finally, post-shave products and a refreshing cold towel are applied – leaving you fresh-faced and irritation free.
Eek! Sure, we don't blame you if you've a few reservations about this one. Waxing hurts. We can't argue it doesn't. However, what you get in return are results that last far longer than shaving ever does (4-6 weeks usually). Experienced aestheticians know how to remove unwanted hair while causing minimal skin irritation, using a warm wax which cools and grips as it sets. What's more, waxing becomes easier and less painful the more often you do it, as hair grows back finer and sparser than before. So, c'mon – man up!
Well, there you have it – five great men's spa treatments to get you started.
Now you're up to speed with those, it's about time we considered…
What to Expect at the Spa
However much research you put in, for a lot of guys, entering a spa for the first time still feels like taking a step into the unknown.
Scary, eh?
With that in mind though, here's what to expect during a typical day at the spa, from start to finish…
You'll be greeted at reception and asked to complete a basic health questionnaire. You may also be offered a pair of slippers and refreshments.
Once the paperwork's sorted, you'll be directed to the changing rooms, where you'll change into a robe and leave any clothing/valuables in secure lockers.
Next, you'll be given a brief tour of the spa's facilities – think swimming pool, sauna, steam rooms, gym etc. You're then free to enjoy these until your...
You'll be informed of where and when to arrive ahead of your treatment – usually a waiting room around ten minutes prior.
Your therapist will begin by asking questions about the skin/body/limb they'll be working on. This helps them to tailor the experience to your individual needs. They'll also describe each stage of the treatment – explaining their purpose and benefits.
Your therapist will tell you which garments to remove and give you a couple minutes' privacy. We'll come back to this a bit later!
Here's the easy bit! Sit back, relax, and let your therapist do what they do best. There's really no need to chit chat – but speak up if you'd like something done differently.
After your treatment, you can stay a little longer to enjoy the facilities or even book another (subject to availability).
When you're ready to go, you'll head back to the changing rooms to collect clothes and valuables (and reluctantly return that fluffy white robe). Some spas also require you to sign out at reception.
See you again soon!
See – not so scary, is it?
Nothing a capable modern man like you can't handle anyway.
Then again, although we now know what to expect from the spa, we haven't really addressed what's expected of you.
How exactly does one behave in a spa?
What subtle code of conduct keeps everything running smoothly (and blush-free)?
What slipups are likely to mark you out as the uncultured spa-ing newbie you really are?
Evidently, what's required is a lesson in…
Men's Spa Etiquette
No one likes making a tit of themselves, and fear of embarrassment is enough to put some guys off spa-ing altogether. Follow a few basic rules, however, and you'll find it's a lot easier to blend in than you think.
Without further ado, then, let's answer some of the most frequently asked questions concerning spa etiquette for men…
How early should I arrive?
It's best to arrive at least twenty minutes before your appointment time. This gives you long enough to compete any paperwork, get changed and find the appropriate waiting room/area. Remember, you're there to relax – not to hurry! Therapists don't appreciate lateness any more than the rest of us, and you risk having your appointment rescheduled or cancelled if you're not there on time. Of course, arriving 1-2 hours early also allows you to make the most of the pool, hot tub, gym, café and other onsite facilities.
Are mobile phones allowed?
Mobile phone use is discouraged in most spas. Although some will allow phones in reception/outdoor areas, it's worth taking a moment to consider why you're visiting in the first place. Indeed, isn't your phone the shrill messenger of all those everyday stresses and responsibilities you're there to escape? What's more, it's likely to disturb your fellow guests and disrupt your therapist in their work. Take our advice – switch it off, leave it in your locker and take an overdue holiday from cyberspace.
What's the deal with tipping?
It's customary to tip therapists 15-20 percent for a treatment. This can be left, preferably in cash, at the reception desk before you leave. Some spas will include a service fee anyway, but cash tips are still appreciated if you feel they're deserved.
Do people talk during spa treatments?
A spa is not a barbershop, and there's no pressure to make conversation. Therapists are trained to recognise when a guest would prefer to enjoy their experience in silence (soft music/whale song excepted). Besides, they're focused on their work too, and certain treatments (e.g. facials) are hindered by excessive chinwagging. On the other hand, if something doesn't feel right, or you'd like them to focus on a particular area – don't be afraid to speak up!
Can I specify a male or female therapist?
Many spas will give you the option of choosing the sex of your therapist. You needn't worry either – there's nothing 'seedy' going on here. It's just another way of ensuring your entirely comfortable during your visit. Be aware, however, that not all spas will have the staff to cater to your preference. Likewise, your options are likely to become more limited the later you book.
Okay, do I have to get naked?
Nudity, or partial nudity, is a small (but often worrisome) part of most spa experiences. However, it's really not worth fretting over. Robes and swimming trunks are compulsory in public areas, and the only place you might be required to disrobe is inside your private treatment room. Your therapist will advise if this is the case, before giving you a couple minutes' privacy to get undressed and position yourself under the large towel/sheet provided. During the treatment, they'll expertly reposition this covering – carefully exposing the area to be worked on, while preserving your precious modesty. If you'd prefer, it's usually fine to keep your boxers on.
What if I get overexcited during a massage?
What are you, thirteen? It's better if it doesn't happen, but don't worry if it does. Your therapist has probably seen it all before. It'll go away – just don't be a creep.
And with that, let's move on to yet more solid tips for spa-ing like a pro…
| DO | DON'T |
| --- | --- |
| DO be polite towards staff and fellow guests | DON'T dump wet towels or litter everywhere |
| DO use your 'inside' voice | DON'T spoil other guests' zen |
| DO shower before treatments – personal hygiene matters no less here | DON'T shave just before a facial – it leaves your skin more prone to irritation |
| DO tell the spa about any medical/skin conditions | DON'T get amorous in public spaces if you're with a partner |
| DO bring a book/magazine to read by the pool | DON'T smoke anywhere you shouldn't |
| DO remember you're still in a public place | DON'T stress – spas want to make you feel comfortable after all |
Though it might seem like a lot to take in, spa etiquette is mostly a matter of common sense and everyday courtesy. If in doubt, a member of staff will always be happy to help – so don't hold back!
That's a (Detoxifying Mud) Wrap!
Well, that about concludes our Gentleman's Guide to the Spa. We hope it's equipped you with all the know-how you need to spa with total confidence. Everyone wants to be taken care of sometimes – and, once you've given pampering a go, there's no looking back!
To browse Experience Days' great range of spa experiences, head here. Alternatively, if you've any questions or comments concerning spas, treatments or etiquette – please get in touch below!
---
PREVIOUS POST
Spa Breaks: 10 (Non-Negotiable) Reasons to Book a Spa Break Today
NEXT POST
Champney's Spa Retreats and Spa Giveaway to Celebrate National Yoga Month
---
COMMENTS
---
---