25 Unique Gift Ideas for Father's Day
With Father's Day coming up, our guess is that you are mentally scrambling for a gift idea for Dad. What on Earth do you buy for the guy who raised you? The guy who has everything? The guy whose interests and hobbies have become so weird and specific over the years that you sort of don't want to encourage them? (It's great that you brew your own beer, Dad, but we could do without the smell in the shed…)

Stop your scrambling. No matter what kind of guy your dad is, or how weirdly specific his interests are, we have a gift idea for him. From the tech-obsessed gadget lover to the sensitive arty type, celebrate his individuality this Father's Day. 
Sporty Dad 
We don't want to stereotype here, but we feel it's safe to say that quite a lot of dads are quite fond of sports. And we certainly wouldn't say that without concrete evidence to back it up. We've all been on That Train crammed full of victory-chanting fans on game day. Just based on the law of averages, some of those shouty middle-aged men are bound to have some kids, right? (woops, we said we didn't want to stereotype…)
Let's just clarify: we're obviously not saying that all football dads are lumbering, beer-can-swinging hooligans, chanting incomprehensibly on the 5:30 train from Portsmouth to Brighton (especially not yours!) Lots of people like football, dads or otherwise. Lots of people love football. If your dad is one of these people, he'll be absolutely thrilled with a footie-themed Father's Day gift, so why not treat him to something that celebrates his love of the great game? 
1. Tour of St. James Park Stadium For Two - £30.00
Now, we don't know much about football (...okay, we know nothing about football. Okay, we know less than nothing about football) but we know that any self-respecting Newcastle supporter will absolutely love this tour of St. James Park Stadium for Two. 

This is the ultimate 'access-all-areas' tour for fans of the Magpies, led by a knowledgeable guide who will take Dad through every part of the stadium, while regaling him with tales of its fascinating history. Whether Dad wants to sit in his favourite player's seat in the Home Dressing Room, or walk down the famed tunnel to the tune of Mark Knopfler's Going Home, he's sure to get a true insight into what the players really see before a game.
Like we said, we're not football experts, but one thing we do know is that fans take their allegiance to their chosen team very seriously. Some of them go as far as to refer to the team as 'we', as if they themselves are out on the pitch playing with David Beckham… (Does David Beckham still ... football? Gary Linekar? Crisps? Help, we're out of our depth here.) 
If your dad isn't a Newcastle supporter, don't fret. We've got sporting experiences to suit everyone, from golfing days to Wimbledon tours. Check them out here. 
Sporty dads rejoice! Finally, at long last, after all this time, the world is catering to you!
Arty Dad
Aww, arty dads. Where would we be without them? We need that artistic temperament raising soft and squishy sensitive kids who will grow up to put more art into the world (…or, become software developers with a side-hustle of custom enamel badge making…) 

Maybe your dad is the kind of guy who has an easel set up in the living room and hands constantly covered in paint. Or maybe he's just always doodling pictures in the corners of his shopping lists. Whether his artistic ability is his livelihood, or just a part of his life, allow him to develop his creativity with one of our art experiences. 
2. New Forest Photography Experience Day - £60.00
If he's into photography, treat him to a voucher for this New Forest Photography Experience Day. 
This fantastic experience combines the soothing effects of being out in nature with the satisfaction of doing something creative. Dad could be a complete novice or a photography wizard – either way, this experience will cater to him. This day is led by professional photographer Michael Palmer, and takes place in the super-photogenic New Forest. Dad's day out will begin by meeting Michael and the rest of the group. After a short introduction, Michael will teach everyone about aperture, shutter priority modes, ISO, exposure compensation, manual/micro focusing and white balance… you know, all those terms that may as well be written in Russian to us non-photographers, but will equip Dad with what he needs to take great shots of the surrounding natural beauty.
During the course of the day, Dad will learn how to get the most out of his camera, taking part in several  projects and bonding with his fellow budding photographers. There's nothing more fulfilling than doing something creative in the great outdoors, and it doesn't get much greater than the sprawling, idyllic New Forest!
3. Introduction to Pottery in London - £36.00

This pottery class in London makes the perfect gift for creative types who want to (literally) try their hands at a new discipline! 
Aside from the gratification of completing a project and having something tangible to show for it, the therapeutic effects of pottery can't be denied. This 1.5-hour class will introduce Dad to the craft that boasts a myriad of positive benefits, including stress reduction, creativity, and pain relief.
The best part? All this can be achieved, like most things worth doing, with a beer in hand. That's right, this particular class is BYOB! Dad will be able to sip his beverage of choice while he masters the foundations of this unique activity, and at the end of the day, his finished product can be used to display flowers or drink coffee out of. It's the art form that keeps on giving.
If neither of the above take your fancy, why not browse our whole range of arty gifts to find the perfect experience for Dad? 
Granddad
Whether your Granddad happens to be the main father figure in your life, or you just want to honour him this Father's Day with a special gift, make it count with a one-of-a-kind experience day!

4. Whisky Tasting Experience in Liverpool - £25.00
Anyone can buy an expensive bottle of whisky, but can anyone tell the subtle difference between an expensive whisky and a cheap one? Gift Granddad with some serious tasting chops with this Whisky Tasting Experience in Liverpool. After 2 hours spent with the professionals learning how to taste and distinguish different whiskies, he'll feel like an expert in the dapper art of tasting.
5. Golf Day with Dinner in Oxfordshire - £35.00

Maybe Granddad's not a drinker. Why not treat him to a day out? This Golf Day with Dinner in Oxfordshire is sure to make him feel like a true pro. Spring Golf Club in Wallingford, Oxfordshire is surrounded by over 133 acres of lush parkland, and makes the perfect backdrop for a spot of golf. Granddad will begin his day with a cup of coffee and a bacon roll before hitting the course for 18 holes of his favourite game. After a day of practice, he'll settle down to enjoy a well-deserved two course dinner in the clubhouse. 
Geeky dad
It's a cliché that most dads will hand the setup manual for new gadgets to their little ones for them to decipher, so advanced is the new generation in the temperamental ways of technology. But for dads who take techy matters into their own hands, there's nothing more satisfying than a new gadget. If your dad falls into this category, we've found a great selection of gifts to keep his geeky hunger satiated. 

6. Tile Mate Key finder - £15.99
Name me literally one person in the history of the world who has never lost their keys and I will give you a hundred thousand pounds. (...That statement is not a legally binding contract.) 
Even if Dad is the most well-put-together, organised person you know, the chances are that, as a human being in the world, he has probably lost his keys a fair few times. Save him from panicked pocket-patting with this gadget for the absent-minded: The Tile Mate key finder. 
All he has to do is attach this smart and stylish little fella to his keys – or wallet, or bag, or favourite pair of socks – and it connects to his smart phone, meaning he can effectively 'page' his keys whenever he loses them… which is – let's see – all of the time? 
7. Native Union Drop Fabric Charging Pad - £49.99

Who doesn't love something sleek and portable? This Native Union Drop Fabric Charging Pad carries the hero's errand of charging your phone on it's well-designed shoulders. 
All you need to do is place your phone on top of it, and by some kind of tech wizadry (don't ask us the specifics) it charges it! A perfect travel companion for long trips, and a sleek desk accessory.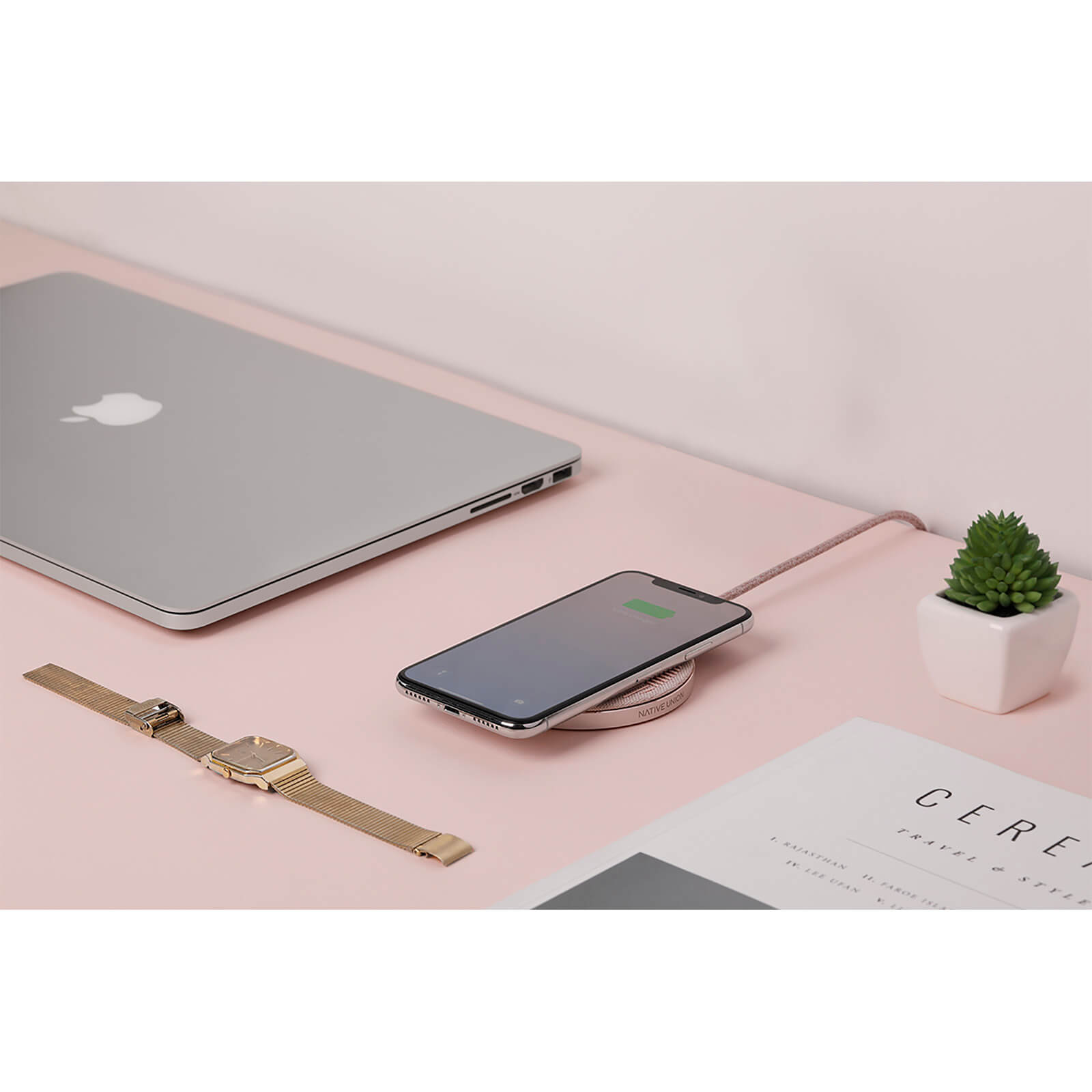 8. Ted Baker Cable Tidy Bag - £35.00

If your dad's into his tech, we'll bet he has the wire octopus clogging up his desk space (you know the one we mean; every home has one.) It's not a great look when his desk is nicely organised but overrun by an army of cables with spurious uses – most of which, let's be honest, he probably doesn't even use.
This Ted Baker Cable Tidy Bag could be the solution to that problem. It keeps all the cables tidied away in separate compartments, and the best part is it looks very stylish when all zipped up. Now dad can have a desk as cool as he is. 
Adventurous dad
If your dad's the mountain-climbing, unshaven, cargo-shorts-wearing type, encourage his sense of adventure (…but maybe not his sense of fashion.)

An adventurous spirit can be a hard thing to hold onto as you get older, when rock climbing is often swapped for nights under layers of blanket watching Downton Abbey (Hey, we're not judging...)
If your dad has managed to resist the comforting call of the couch potato lifestyle, we might just have the thing for him. 
9. Rock Climbing in Wales - £69.00
Introduce Dad to this fantastic outdoor activity, excellent for getting the heart rate up and soaking in the benefits of nature: fresh air, exercise, and stunning surroundings! There's no feeling more rewarding than physically challenging yourself to climb a great height, followed by the reward of the view when you reach the top. Whether he's a rugged mountain man or an I.T. consultant with a secret passion for the outdoors, give your dad that 'Earned it!' feeling.  
10. Medieval Sports Trio in Dorset - £30.00
There are many things from The Middle Ages that are better left behind (the bubonic plague, public executions, tunics…) but the sports of archery, crossbow and axe throwing are too fun not to carry into this tech-obsessed century. This fantastic activity day encompasses the sports of archery, crossbow and axe throwing for a historic day out with a difference. Located in the picturesque countryside of Dorset, this experience day is a brilliant way to enjoy the outdoors. Give Dad something a bit different this Father's Day, and see which of these unique activities he'll come away the most obsessed with!
New Dad
For the dad who sees a full night's sleep as nothing but a distant memory. The dad who can change a nappy in five seconds flat with his eyes closed. The dad who stands up to eat his lunch. It's no secret that new dads don't get a whole lot of time to themselves. 'Let's go to the cinema' or 'do you fancy a drink?' are sentences in a foreign language that they no longer speak. If you and your partner just had a baby, time is arguably the best gift you can give each other. 
As Sci-Fi as this concept may seem, you can actually give this new dad (and yourself!) the gift of time. Our gift vouchers are valid for 12 months, so treat him to one of the following glitzy outings (with the promise of a babysitter) when he's ready to get his glad rags on and face the outside world once again:
11. London Theatre Show and 2 Course Dinner for 2 - £95.00
When was the last time he went to the theatre? With this London Theatre Show and 2 Course Dinner voucher, he can choose from a selection of top shows and restaurants for an unforgettable night out. Give him the time to decide at his own leisure, and enjoy a glamorous night out in the capital together!
12. Sunday Lunch Thames Jazz Cruise for 2 - £98.00
Foot-tapping jazz, delicious food and iconic sights make this jazz cruise the perfect all-rounder for new dads wanting to dust off their best shoes for a special day out. Departing from Embankment Pier, this luxurious cruise will delight him with jazz classics and a three-course lunch as he takes in the urban beauty of the Thames. 

Film Snob Dad
Does Dad think the Blade Runner reboot didn't really live up to the hype? (And does he maybe talk about it a lot…?) Does he have a very specific opinion about who should have played Cat Woman (NOT Anne Hathaway)? And do you know Uma Thurman's folded legs like the backs of your hands because a Pulp Fiction poster stared at you for the majority of your teenage years?
Congratulations, you have a Film Snob Dad.
The good news: There are lots of great gifts for Film Snobs.

The bad news: You will have to listen to several speeches about how the Pixar film Inside Out is really an allegory for depression.
But you already knew that, right? You've been living with a Film Snob Dad for years. You know exactly how he arranges his French film collection (with Amelie right at the back, and all the obscure classy stuff at the front). You've sat through the fan theories. You've puzzled over what to get him for birthdays, Christmases and, yes, Father's Days, only to get it totally wrong. 'Duh, I already have the director's cut of A Clockwork Orange. Haven't you browsed my wall-to-ceiling library of violent films recently?'
Fear not. It can be hard to get it right when a relative has a very specific interest, which is why we're here to take the guesswork out of it for you. Check out our top gifts for film snobs below:
13. Ticket Stub Diary - £11.04
Film Snobs are natural collectors, whether those collections are made up of every film their favourite director has ever made, or action figures from Star Wars. But, of course, the cornerstone of any Film Snob's collection is cinema tickets. This Ticket Stub diary is the ideal way for them to hoard – ahem, we mean display – their most precious cinematic memories. No more crowding up the junk drawer with Iron Man 3 tickets from 2013 – now they can be organised with pride instead of hidden away. 
14. Single Serve Microwaveable Popcorn Set - £15.00
Honestly, what's a film without popcorn? Take Dad's movie nights to the next level with this silicon popcorn maker. All he has to do is add kernels and microwave until the cute little lid pops up. No more popcorn waste!

15. James Bond Filming Locations Tour - £24.00
The name's Dad, Film Snob Dad… okay, it doesn't really have the same ring to it, but if Dad is a fan of 007 he'll love this James Bond Filming Location Tour of London. Meeting outside Charing Cross Railway Station, he'll spend 2.5 hours viewing the capital through James Bond's eyes, featuring locations from For Your Eyes Only, Die Another Day and Skyfall. His knowledgeable guide will show him fascinating behind-the-scenes insights from his favourite secret agent, and he'll get to see some iconic landmarks along the way.

Tree-hugging Dad
You know the one we mean. He's the one who makes an excellent vegan lasagne, but does then spend thirty minutes talking about the organic gluten-free pasta he used. He's the one who washes his hair with Bicarbonate of Soda because shampoo has too many harmful chemicals. He's the one who sees a worm in the middle of the pavement and picks it up to move it out of harm's way. In short, he's thrifty, attentive and compassionate – and a total and complete tree hugger. 

We love tree huggers! Who else can we rely on to make the really good climate change protest signs? Who else can we rely on to save the worms? Who else is going to make our vegan lasagne for us when all the good food has run out?
The only downside is that tree huggers can be difficult to buy gifts for. They might take a moral stance against the needless accumulation of material possessions (hey, works for us – we're an experience gift voucher company!) or they might just have extremely specific needs when it comes to where the presents came from ("What do you mean this T-shirt is not made from Hemp?") Whatever the reason, we think it's best to err on the side of caution (and, let's face it, it benefits us) and go with an experience gift this Father's Day. Luckily for you, we've got plenty of gifts that are perfect for tree-hugging dads. 
16. Alpaca Trekking in Kent - £25.00
I mean, come on. Those sweet faces are enough to melt anyone's heart, especially an animal lover. Dads who are into nature and the great outdoors will fall over themselves to take part in this adorable alpaca trek in Kent. He'll start his experience by meeting his fluffy-faced walking companion for the day. Next, he'll take a scenic trek through the countryside with his assigned alpaca and enjoy the views. This trek is led by a personal guide and taken at a leisurely pace, so everyone has time to enjoy the scenery and bond with their adorable new friends.

17. Canyoning Experience Cumbria - £60.00
Give Dad the gift of adventure this Father's Day. During this 3 hour canyoning experience, he'll test his nerve and explore the beautiful countryside of The Lake District in the most extreme way! His experience will see him climbing waterfalls, abseiling down cliffs and plunging into pristine pools. This action-packed day out boasts extreme thrills and incredible fun, plus an opportunity for Dad to be in his favourite place: outdoors.

18. Treehouse Experience - £349.00
We know Dad loves hugging trees… now he can sleep in one! This one-of-a-kind treehouse experience for 2 in Wales will allow Dad two blissful nights of natural peace and quiet in a luxury treehouse surrounded by woodland. Combining the comforts of a hotel with the excitement of camping, this experience is the perfect getaway for tree-hugging dads who need a break. 

Rock'n'Roll Dad
If your Dad rocks but you're bored of second-guessing his ever-changing taste in music, change it up this Father's Day! Our selection of music experiences will put him in the shoes and stories of his rock 'n' roll heroes.
19. 2 Hour Recording Studio Experience in Brighton - £100.00
He's listened to every C.D. going, now it's time for him to live out his fantasies and record his own music! This awesome recording studio experience will be completely tailored to his own needs. If he's a guitar maestro, he can bring his trusty instrument along and accompany himself. He can also sing along to a backing track. He'll have the choice of recording his own original song, or laying down a cover of one of his favourites. This studio's catalogue boasts an impressive 49,000 backing tracks, so he's sure to find something he can rock out to.

20. Queen We Will Rock You London Bus Tour - £40.00
Speaking of rocking out… If Dad is a fan of legendary rock band Queen (and who isn't?) he'll be thrilled to receive a voucher for the We Will Rock You Queen London Bus Tour. During a fascinating 3 and a half hours, he'll go on a journey through the band's rich history, starting with humble college beginnings and progressing to the chart-toppers they came to be. Fronted by moustachioed maestro Freddie Mercury, their progress is peppered with ups, downs, fascinating twists and turns. Dad will get a true picture of the band's life together by viewing the real backdrop for their success. Highlights include the band member's houses (including the house where Freddie lived and died), The Royal Albert Hall and the studios where the band recorded most of their songs. Dad will have the added bonus of viewing the sights from the comfort of a tour bus, which will be – you guessed it – blasting Queen music along the way. 

21. The Beatles Story Exhibition with Dinner for 2 - £103.00
From one musical legend to another… 

We don't need to tell you that The Beatles paved the way for so many bands that came after them with their various stages of music, from the upbeat Love Me Do to the psychedelic Lucy in The Sky with Diamonds. They've gone through so many stylistic and musical changes, and yet still remain the cornerstone of British music. Our guess is that Dad is probably a fan of the biggest band in the world (even 'bigger than Jesus'?) so we think he'll love this Beatles Story Exhibition with Dinner for Two. Top the whole experience off with dinner from R Bar & Brasserie at The Richmond Hotel. He'll feel like real rock 'n' roll royalty with this combination of musical insight and delicious food.
Petrol Head Dad
With over 400 driving experiences on our website, we'd be remiss not to include a section for the petrol heads. There's such a huge variety to choose from, but we've rounded up some of our most popular categories below. Don't forget to check out our full selection of driving experiences to find the perfect gift for the Top Gear obsessed Dad who wants to take his own spin on the race track…
22. Supercar Driving - from £39.00
Get Dad behind the wheel of his dream supercar with one of our thrilling supercar driving experiences! With cars ranging from Ferrari to Porsche and tracks all across the U.K., there's no shortage of options to fulfil his dream of zooming along the race track in his favourite car. 

23. Classic Cars - from £39.00
For Dads who are as classic as a Morris Minor (no, of course we don't just mean old!) one of our vintage car experiences is bound to put a smile on his face. Whether he wants to drive a Shelby Cobra around a race track, or hire a Mini Cooper for a weekend of adventure, we're sure you'll find the driving experience to make his Father's Day just a little bit more classic.

24. Quad Biking - from £35.00
Quad Biking is the accessible adrenaline-fuelled driving experience for anyone looking to spend an hour or so tearing up the road! Because of their easy-to-use controls, quad bikes are great for those who aren't necessarily used to driving but want to have a go at a truly unique activity. Take a look at our selection of quad biking experiences to find something perfect for Dad.
25. 4x4 Driving - from £40.00
4x4 is the ultimate thrilling activity for Dads looking for something different. We've got a vast selection to choose from, so take your pick! Whether Dad wants to get behind the wheel of a monster truck, or test the capabilities of a Land Rover, there will be something here to thrill him this Father's Day.

…and that concludes our list of Father's Day gifts for every type of dad! We hope you managed to find something on this list for your dad, no matter which category he falls into… if any at all! Dads are unique creatures of all shapes and sizes, so maybe his interests don't apply to any of the above gifts. If that's the case, don't forget to browse through our full range of Father's Day gifts here, or our Gifts for Him here!
Thanks for reading, and have a happy Father's Day with your dad or other half, no matter how weird and wonderful they are.